Disclosure: This is a sponsored post written by me. However, all opinions are 100% my own.
Scouring the Internet for the best price on a product can be time consuming. Who has time to look through dozens of websites for the best deal? No one who has kids, I can tell you that. After talking to a few people, I want to introduce you all to an amazing money saving website, Dealspotr.
Dealspotr is a website that is simple to use. I mean, anyone can use it, including you and I. This is probably what I love most about it. Easy to use and simple to navigate.
Deal on Dealspotr
So what's the deal? It is fairly simple to understand. If you check out their website, you can see that other people post the deals. Members of this website can post deals of all kinds and in return, they can earn free rewards, like Amazon gift cards. Members can earn a $10 gift card within the first few days!
Where Did Dealspotr come from?
This is an easy answer. They have been around for a little over a year. In that years' time, they have done so much. In fact, they have saved shoppers over one million dollars. That is some serious cash they have saved their shoppers. They are one of the fastest growing deal sites and get over 1 million shoppers per month (those are amazing numbers if you are wondering).
Dealspotr is crowdsourced
The best part of Dealspotr is that there are everyday people out there saving you money. They have over 30,000 members working hard to save you a $1 or $100. All deals are "policed" to make sure they are legit. Since Dealspotr has the highest coverage, it means they are also the most reliable, which many shoppers appreciate. No one wants to waste their time looking for "deals." With Dealspotr, there is already someone doing all of the looking for you!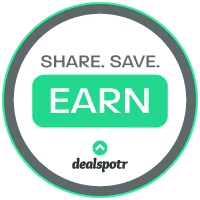 How does Dealspotr work?
Well, simple enough, here is how it works.
Sign up for an account

with Dealspotr.

Choose from the different categories offered to you when signing up.

You can even choose different subcategories in the categories.

Choose various stores that you want to see deals from.

You get to choose deals that only you want to SEE!

Use the search bar to search for specific deals.
Their website is very much like your Facebook feed in the fact that you get to only see the deals you want. Think of it as your "deal feed." Does it get much easier than that?
Earn Points with Dealspotr
Maybe you are past wanting to save money, you want to get in on the gift cards. That part of Dealspotr is pretty easy and a very attractive feature. You can start earning gift cards by posting deals. You can also comment on deals, edit deals that are no longer valid, and even refer people. I love that the ways to earn gift cards are so simple.
Signing up for Dealspotr is a great way to save money in 2017 and beyond. It is also a great way to start earning gift cards to pay for things like birthday and Christmas gifts.
Who's ready to get started saving money and earning money back?